It is amazing that once I moved out of LA the biggest sessions of my career appeared. I was in my new "home", October of '96, and my phone rings. It's producer/engineer Greg Hunt. Greg owns Rosewood Studios in Tyler TX and I had worked for him in the past. The first time was for a Contemporary Christian act from Dallas called the Cruse Family. The year was 1985 and Greg called some guys from LA that were doing lots of sessions in that genre. Myself, Dennis Holt on drums, Mike Brignardello on bass and Smitty Price on keyboards. After that session Greg used to call me once in awhile to come to Tyler for session work. I pick up the phone and Greg says "Martin"? (He always calls me Martin)


Me: Hi Greg what's up?
Greg: I am wondering your availability on……
Me: Looks like I am good for those dates.
Greg: Great, book those and by the way I am #1 on the country charts!
Me: What??
Greg: I'm #1, with a new artist on Curb records, LeAnn Rimes. I did her single called "Blue" and its #1.
Me: Whoa! Congrats!


Now you have to understand that Greg is a remarkable producer/engineer and his arranger Gary Leach is amazing as well. That said, they are in Tyler TX making a great living doing local acts, jingles, whatever came in the door but never were on the "charts" so that came as a big surprise. I flew to Tyler to record guitars on that project he booked me on and while there he said, "I'm doing Leann's new album, I would love you to play on it but the producer, her father Wilber, would need to ok it". They had a lot of basic tracks recorded and while Leann's single "Blue" was real old school country they were going to modernize her sound a bit on this new record. Greg put up a few of her tracks and I added guitars to them so that Wilber could hear what Greg had in mind.


He played those for Wilbur who liked what he heard and had Greg book me for more overdub sessions.


From WIKI:
Sittin' on Top of the World is the third studio album by American country singer LeAnn Rimes, released in the United States on May 5, 1998, by Curb Records. The album has been certified Platinum. It contains cover versions of "Insensitive" by Jann Arden, "Sittin' on Top of the World" by Amanda Marshall, "Purple Rain" by Prince, and "Rock Me (In the Cradle of Love)" by Deborah Allen. The album also includes two singles which were released to country radio: "Commitment" and "Nothin' New Under the Moon". Sittin' on Top of the World debuted at #4 on Billboard 200 in its 1st week with 156,500 copies sold, it peaked at #3 in its 2nd week. The album spent 3 weeks in top 10 and 37 weeks in Billboard 200.


The first single "Commitment" is loaded with my guitars, I remember getting sounds on that track with Greg and Gary, the size of the rhythm part was a clinic in engineering, and the parts Gary and I worked out apparently were strong enough to drive this thing. They even gave me a solo! 🙂


Again from WIKI:
"Commitment" is a song written by Tony Colton, Tony Marty and Bobby Wood, and recorded by American country music artist LeAnn Rimes. It was released in April 1998 as the lead single from her album Sittin' on Top of the World. The song placed at number 4 on the US country charts


Here is the video of "Commitment"

Once the album was certified platinum I received one of these: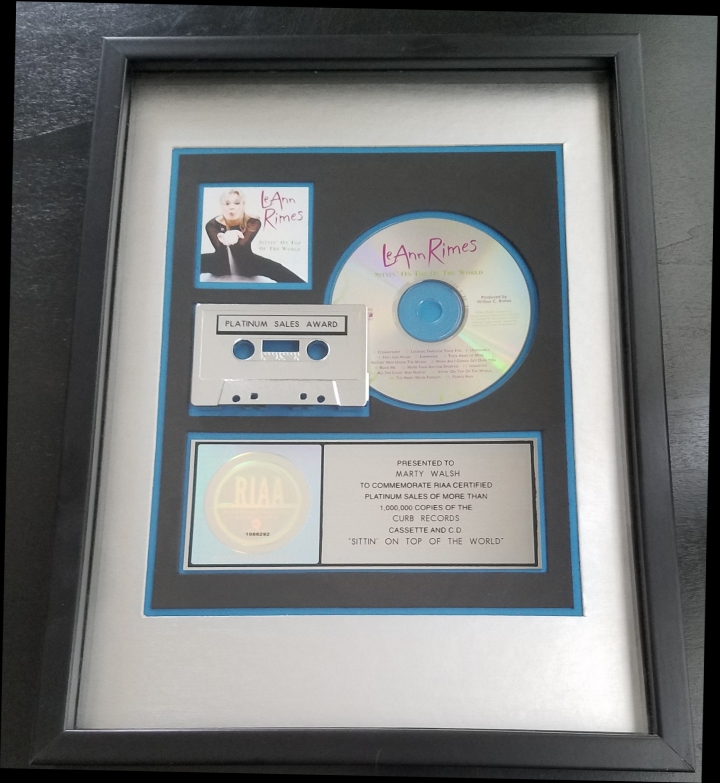 Platinum, I never had one of those before, and not one since. I must say thank you Greg, Gary and Wilbur for the call!


Now that I had opened my studio for production projects I was doing quite a few local acts, some band stuff, lots of vocalists that needed full production for their projects etc. It was the "one stop shop". I could build tracks, do all of the overdubs and mix. Sandwiched in between the local stuff were trips to Tyler and LA. Since Greg and Gary had done the LeAnn records there were all kinds of people wanting to use those guys. I was down there quite regularly over the next 5 years. As I said last week whenever Michael Ruff was going to be doing shows in LA I was going to be there no matter what.


Also now that I was back east I continued a relationship that spanned many years with the songwriting team of Bruno and Schwartz. I had met Roger Bruno and Ellen Schwartz years before in LA playing on song demos for them, and they had recently relocated to NY. It turns out they were in the midst of doing and album and caught wind of the fact that I was somewhat "nearby". They had a tracking session booked at a studio called A-Pawling Studios in Pawling NY. They called and asked if I would come there and do some tracking dates. Then they told me who was on the session. Great NY session players drummer Chris Parker and bass player Mark Egan. For years I was a huge fan of Chris Parker as he was one of the drummers in the band "Stuff" who I really liked.


I loaded the car with gear, (do I ever miss having Jimmy Williamson delivering my gear!) showed up at the studio and we cut some great tracks. Here is one called "Mr. Everything".

Another great album that was done "Indy" so it never hit the charts but filled with great songs and performances all around.


Next week, the Michael Ruff album "Lovesongs and Lullabies", and touring with Michael, more LeAnn Rimes records and another great Curb Records artist Steve Holy.