Ok so here come the 90's. Big changes afoot. First, the session world while still viable in LA, was thriving in Nashville. There began this mass exodus of LA studio musicians to Nashville. It probably started in the late 80's but really took off in the early 90's. Did you ever wonder why the radical change in the country music sound at this time? Well some of it certainly had to do with former LA studio cats bringing their sound to Nashville. That's when the overdrive guitars started to be commonplace on country records. It was the 80's LA studio "Pop" sound now being used on country records. One thing for sure, I was not moving to Nashville. Not even remotely interested. I had to somehow continue to carve out a living in LA. The 80's sessions in LA were filled with records being made in the Pop, R&B, Latin and Rock genres. Lots of single artists that needed session players in those styles, but that was going to be going away very soon. That said, 1990 was a pretty good year for me.
At this point I am doing all kinds of sessions and the big ones, the ones for major artists were all paying double union scale. Double scale had to be around $300+ for a three hour session, and it was not uncommon to be booked for the "day" meaning 3 sessions. Sessions were booked in 3 hour increments so you were either booked back to back, totaling a 9 hour day or staggered for lunch/dinner etc. Something like 10 to 1, 2 to 5, and 6 to 9. If the date was for a major artist/label it always went through the union. This was good for us musicians as we all wanted the clients to pay into the union pension fund. Also at that time there were lots of sessions going down for overseas clients. Typically these sessions didn't go through the union but paid union rates. The common phrase for us studio players was, a "K" a day! Three 3 hour sessions booked = $1000. Not a bad days work.
Here is my session log from early March then into early April in 1990. Notice the real disparity from gig to gig. There is another saying in the music biz, "Take everything". If you get the call, book it.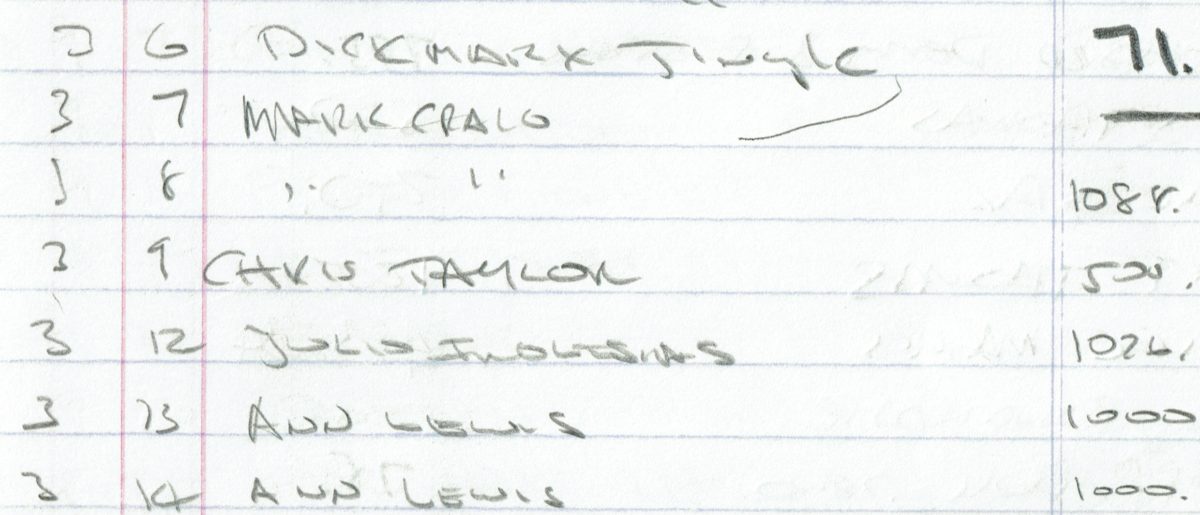 On March 6th I did a jingle for Dick Marx. Dick was Richard Marx's father. He had a huge jingle business in Chicago. When Richard moved to LA and his career took off Dick moved his biz to LA and I started getting calls. But dig the $$. Netting $71. Now obviously the dough is low but we did get residual checks that could bring the $$ up substantially, but the vocalists that sang on jingles? Huge money. The AFM contract for union scale on jingles was maybe 1 10th of the AFTRA contract for vocalists. I mean for a national spot that runs for a year, the vocalists on that ad could get into the 6 figure range. Good for them. Mark Craig and Chris Taylor are Contemporary Christian producers, those records paid 1/2 of the double scale sessions. Then there is a session for Julio Iglesias, moving back up! That's union double scale. Ann Lewis was the stage name for a Japanese artist. Two days of work at a "K" a day. Good times! I have to assume that the Julio and Ann Lewis sessions were booked by contractor Suzanne Edgren. She was Julio's contractor and did lots of contracting for Japanese producers.


This entry is interesting. Tony Defranco hired me to play on sessions on March 22, 23 and the 26th. The 22nd and 23rd I assume were tracking dates and the 26th they brought me in for overdubs. The interesting thing here is Tony Defranco is the Tony Defranco of the young Canadian singing group 'The Defranco Family" that I did my first road gig with in 1974! Tony was maybe 14 at that time. He had made inroads into the LA music scene as a contractor. Here he is 16 years later calling me for some record dates. I have no recollection who the artist was but the $$ was good. Brad Smith is another jingle writer. The 4/17 entry says "Hester Roundhouse". That was for Benny Hester's new TV production that eventually saw the light of day a few years later. From April 20th to the 28th I did an album for one of my favorite people, producer Tim McCauley. Tim is a Canadian record producer and he hired me to come to Toronto and play on a really good record by Keven Jordan. In the 90's I wound up playing a lot of really good music. Lots of things that were not making the Billboard Hot 100 but musically very satisfying. Here is a slice of the Keven Jordan record, I always loved this track, and hey it's 1990 when guitar players got to be featured and have fun on records! 🙂

On May 10th and 11th I did this record,


This album apparently won the Grammy for "Best Pop/Contemporary Gospel Album". I never knew that until researching this for the blog. I found the entry in my session log, looked it up and lo and behold on allmusic.com I found out. Can I get a trophy? hahahaha!! The list of musicians is another Who's who of the LA studio scene. Robbie Buchanan, Nathan East, Paul Jackson Jr., Randy Kerber, Eric Persing, John "J.R." Robinson, among many.
On June 14th I did my first sessions for Richard Perry. Richard was really big at the time. His client list was rather impressive, from '87 into '90 he produced records for The Pointer Sisters, Thelma Houston & The Winans, Randy Travis, Rod Stewart, Luther Vandross, and Laura Brannigan. The call is a triple, but yielded only this track from the Thelma Houston album "Throw You Down".

To finish off today's installment I am again working for Michael Omartian, thanks to Jeff Porcaro. Michael was producing a new artist for Reprise records, Raymone Carter. He was in the midst of tracking sessions on this and using Jeff, Mike Porcaro and Steve Lukather in the rhythm section. Luke could not make one of the dates and Jeff told Michael he should call me. Now, and I mentioned this before, the last record I did with Omar was the Donna Summer record "She Works Hard For The Money". That was 1983! Seven years ago. I knew that Luke was Omar's #1 call but he was also using Mike Landau as well. I figured I would not be working for him again. I get the call and am pleasantly surprised. I get to the session and Jeff tells me he told Omar we had been working together and he should call me. Obviously I am very flattered. I did tracking with Jeff, Mike and Michael on July 20th and overdubs on July 23rd. Here is one of the songs I played on. This is myself and Steve Lukather on guitars. I have the rhythm parts and Luke plays the solo.

Next week more 1990 into '91 and the beginning of getting more involved in writing and arranging projects in addition to session work.