Before I get to more recording session news I have to tell you about the very fortuitous event that happened to me in 1979. There was a club in Toluca Lake CA called Jason's that I started frequenting with friends of mine. Great bands played there. A fellow by the name of Bob Caloca had a really good band and my buddy Scott page had a great band that played there as well. One night while we were hanging out at the club these two guys walked in.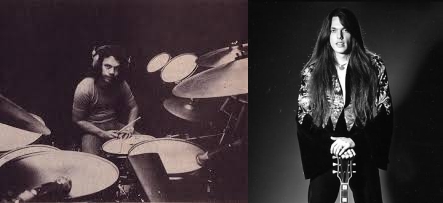 On the left is Bob Siebenberg of the band Supertramp, and on the right is Scott Gorham of the band Thin Lizzy. As you probably know these bands were British groups but Bob and Scott were from my hometown of Glendale CA. I met both of them when we were still in high school and had an opportunity to play with them a few times. Straight out of high school these two moved to London and wound up in these very successful rock bands. I had not seen them in years and I couldn't believe it when they walked into Jason's. They were coming back from a mixing session of the Supertramp record "Breakfast In America". That night began an extended musical relationship that I had with both of them. I will never forget the night that "Breakfast" was finished and Bob brought a cassette tape of the mixes to the club. At the end of the night a bunch of us piled into cars and went to somebody's house to listen to it. We all crowded around a boombox and it was just unbelievable. All jaws on the floor! So obvious that it was going to be a huge album. I bring this up now because at the time I had been rehearsing my own band called "The Campaign". Here is a shot we took for our publicity pictures.

Left to right Kerry Morris, Gary Ferguson, Derek Bergmann, myself and my songwriting partner Dennis O'Donnell. That's my wife Libby's hand on the guitar neck. 🙂 We had rehearsed all of our new music and needed a place to record and Supertramp had a rehearsal/demo studio in Burbank. It turned out to be the perfect place for us to record our demos. Their house engineer was Harry Andronis who we nicknamed "Harry-O", great guy and an excellent engineer. What was amazing about this was that it was actually the same building that I rehearsed my high school band "Wyngate Ferry". I think we thought the name sounded British. HA! Our "manager" had rented the building and set it up for us to rehearse in. It was also the first place that I played with drummer Jeff Porcaro back when we were still in high school. Here is a photo of the acetate that we made from those demos.
Even though I was doing lots of session work the goal was to have a band that had hits. As my buddy Jay Graydon said in the prior installment "You've got to get out of being a studio musician before it quits you!" The more I looked at successful musicians careers I realized that there was a real path of moving on. So many studio musicians that I watched either had successful bands, moved into record production, songwriting or film composing. Many also moved into the world of A&R and music publishing. The ones that did not move forward wound up back on the road, so the goal was always to try to figure out what the next step was. We shopped those songs to record companies but nothing came of it so I carried on doing dates and in September of 1980 I met Michael Smotherman.
That's me and Michael pointing at eachother, I'm not sure who the guy in between us is but it looks an awful lot like vocalist Donnie Gerrard. Here is a page from my calendar, September of 1980. This Monday Tuesday and Wednesday I did one rehearsal and two gigs with Michael and that got him his record deal. That's what writing great songs will do for you!
The gig at the natural fudge company was kind of the tuneup, and the gig at the improv was the one that was his showcase for record labels. Epic signed him shortly thereafter. The album was released in 1982, myself and Steve Crossley did most of the guitar work. Here is the music video of his first single "Crazy In Love".

That pretty much wrapped up 1980, next week 1981, sessions for Christopher Cross, Burt Bacharach, Michel Colombier and Barbara Mandrell.