Hey everybody, so continuing in 1987 I started a writing relationship with one Frank Musker. Frank had written hits in the 70's and since I was having a hard time getting the doors opened in the writer/publishing arena I thought "Hey why not write with an established writer?" Doing studio work was great but as my friend Jay Graydon said, "you've got to leave studio work before it quits you!" Again, that bit from Jake the Rake.
Frank was signed to BMG publishing and therefore all of his songs would be pitched to prospective artists through BMG. Good for me as I am along for the ride. BMG owns Frank's publishing but not mine and getting in the door to prospective artists is a real battle. As my friend Andrea Robinson, who is a great vocalist and was trying to break into the backing vocalist scene in LA back in the day once said to me, "If they won't let me in the front door I'm coming in the back! Hahahaha.
We wrote a few things and one day Frank comes up with this title, "Put It On The Line". Love it! 🙂 I sit down at the piano and start banging out some chords and we wrote it. Fortunately for us we had some great engineers coming into Frank's home studio. Bob Biles was one, and also Tommy Vicari who was digging what Frank was doing so he came to Frank's studio and recorded this for us. As soon as we had this demo done I immediately thought of Michael McDonald. I had previously done the Paul Anka Record with Michael and those sessions went really well so I called him up and told him about this tune. He told Frank and I to meet him at his managers office. We went there and listened. Michael's response? "I love your song guys but I have 6 other mid tempo tunes that I have written for the album and I have to get rid of one, do you have anything more up tempo?" Once again air coming out of balloon. 🙁
Here is our demo that we showed to Michael.


I had an up tempo rough idea and showed it to Michael, he came to my home studio and we worked on it a bit. He dug it but apparently not enough as we never got back together to finish it. Frank and I went ahead and did finish it but it never found another home. Here it is if interested. The lead vocal was done by Arnold McCuller who I had worked with during the A&M demo days.

On January 4th of 1988 the Supertramp tour began in Brazil. We played Rio and São Paulo. The new backup musicians were Steve Reid on Percussion, Brad Cole on Sax and auxiliary Keyboards, Mark Hart on Keyboards, Guitars and Vocals, and myself on Guitars and Vocals. Here are some pics from Rio.
The arrival


The rehearsal


Rick at soundcheck


Percussionist Steve Reid


My guitar tech Andy Moore

On January 13th we headed to São Paulo to play the show there. These shows were festivals called "Hollywood Rocks"
From WIKI
The first edition of Hollywood Rock took place in January 1988, with four nights of concerts in each city. The venues for the festival were the Morumbi stadium in São Paulo and the Apoteose Square (the final section of the Sambadrome) in Rio de Janeiro. The headliners for this edition were Supertramp, The Pretenders, Duran Duran and Simple Minds. However, Simply Red, who opened the concert for Duran Duran, was generally considered by press and fans the breakthrough performance of the whole festival, leading them to come back for the 1993 edition, this time boasting headliner status.
Not bad company to be in. 🙂 Here are some more pics, these in São Paulo
The crowd outside our hotel on arrival


Brad Cole


Myself, sound engineer Norman Hall and Mark Hart, apparently heading to the pool!


Playing a solo front and center for 140,000. What a rush…..

We arrived back home on the 18th of January and geared up for the Canadian and European legs of the tour. Here are my tour book itineraries.

And a few more snaps to close out this chapter of my musical journey with Supertramp.
Myself and my pal Scott Gorham backstage at one of the shows.

The four Supertramp members before taking the stage at the final show in Zurich.

The entire band after the final show.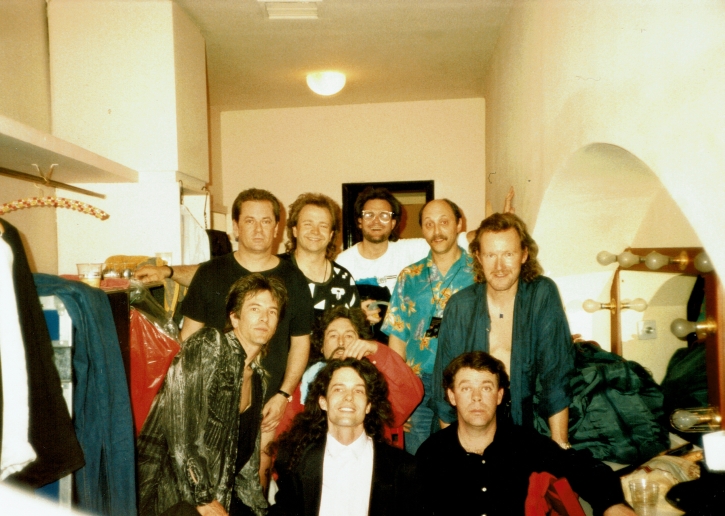 Getting ready to board the plane in London and head back to LA. Left to right, yours truly, Peter Jacobs who was the band's assistant, Steve Reid, Brad Cole and Mark Hart.

That was the last time I worked for Supertramp. It was a good four year run. After this tour Rick decided to start working on a solo record. He called up the guitarist from the '86 tour, Carl Verheyen, and Carl put together a group of LA musicians to work on this new project. In the end though, the record wound up being another Supertramp record without Dougie. They were now down to three original members.
In closing the Supertramp chapter, here is a video from the '86 tour that I found on youtube where I get a nice featured solo.

So now what? Back to sessions I guess. As I have said before the road can really have an adverse effect on one's studio career. The rest of the year of 1988 the sessions were pretty slim. That's the price you pay for leaving town and leaving that door wide open for others to get the calls that would be coming your way.
Next week, reuniting with Benny Hester and the history between myself and one Jeff Porcaro, starting with the first time Jeff and I played together as high school students. Jeff was hands down the best "musician" I ever had the opportunity to work with.